Friday Night!. . . join the Dj Rust_Ryu & The Rev Dj RaZorslave for Redemption at Skizofrenia!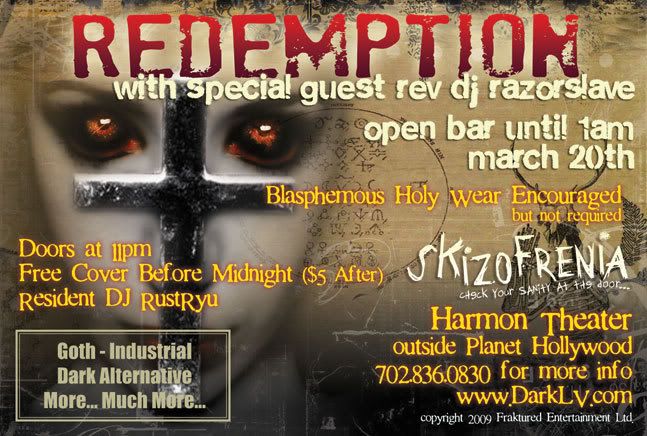 ===========================================================================================

then Saturday we have two things for ya!






It's Jevin and Angel's 3rd Wedding anniversary celebration and it'll be a pounding good night at Vector. So Join The Rev Dj RaZorslave and special guest Dj Spider_Silk this Saturday, as we usher in another year of happiness and success for the lucky couplle with the Best in Industrial Dance Music. . .

Where:
Black Label
3550 S. Decatur St (Corner of Spring Mountain and Decatur)
Las Vegas, NV 89103

When:
Saturday Nights - Doors at 10:00pm

Cost?
Free, but if you like what you experience, we have dj's and door people that need to get paid, and new music that needs to be bought so a $5 Suggested Voluntary Gratuity seems fair to us. Again. . . we need your asses through the door, the owners want to see a crowded room, so show up and add to the tip jar, but most importantly show up and support the night with your enthusiasm!

21+ With I.D.

===========================================================================================

and finally, Since I know not EVERYONE on my friends list is going to be at Vector this weekend, and I know at least SOME of those people who might be into and up for some Crazy Drum & Bass action and a great after party, at the world famous 3 clubs in one Penthouse Club. I'll be heading over for the VIP after party, to meet up with Natalie after I'm finished spinning at Vector. I thought I'd spread the word on this killer event.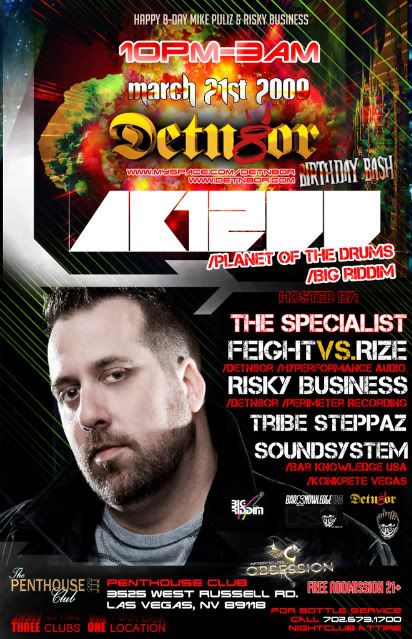 A
That's right, your chance to see AK1200 with The Specialist, Feight Vs Rize, Risky Business, Tribe Steppaz, Soundsystem and more.


$50.00 VIP Party Package includes. . .


H2 Hummer limo transportation (Down and back)

- All you can drink in limo

- Admission to event

- $300 Bottle Specials all night long (For Bottle Reservations Contact Mike @ 602-384-6217)


There are a limited amount of seats left for this event so reserve your spot now as Seats will be sold on a first come first serve basis.

Cost: $50 per person

To buy, go to the Naked Events Website and click the buy now (paypal) option,
The cutoff for sales is Friday Night, this secures your place, and lets us know how many Hummers it will be. Toby from naked events will be in touch regarding scheduling and logistics once the order goes through.

For booking information you can also contact us at 702-808-5238

P.S. Make sure to tell them razorslave sent you in the paypal order comments.



Please pass the word and forward to your fiends! support scene and don't let the economy kill it!